Welcome
If you are new to Black Mage, welcome, or if you are returning back to playing the game & the Black Mage job, welcome back!
Below will be information about Black Mage to help you get started on getting up to speed with the current iteration of the job.
Black Mage Actions Summary
Black Mage is one of the most iconic jobs in Final Fantasy with the emphasis of channeling powerful spells to devastating effect. FFXIV's Black Mage is no different with its highly potent unaspected and elemental spells.
Black Mages focus on being a purely GCD damage based job with their OGCDs only serving as utility. It has a simple rotation to learn but one that is tougher to master in practice.
Like the other casters Black Mage uses MP to cast its spells, however, it is unique in its MP management with the Astral Fire and Umbral Ice phases in order to have nigh-limitless reserves lending itself to being the sole caster that scales particularly well with Spell Speed. It also has random proc based gameplay with the Thundercloud and Firestarter traits.
GCDs
Coming Soon(tm)
OGCDs
Off Global Cooldown actions, or OGCDs are separate to the GCD. They are typically used after an instant cast GCD with what's known as weaving. If weaving is an unfamiliar concept, please check out the GCD Uptime & Weaving section further down.
Coming Soon(tm)
GCD Uptime & Weaving
One of the most important lessons for all jobs that is unfortunately not taught in game is the idea of good uptime & to Always Be Casting. Keeping your GCD rolling & efficiently using your time is critical to performing good damage so with that in mind there are several rules to be aware of:
Keep your GCD rolling.
If you have to move, try to slidecast. (Moving at the end of a spell with it still resolving)
If the movement required is too much to slidecast, use an instant cast GCD.
With weaving typically stick to at most 2 OGCDs after an instant cast GCD. (Double weave)
Black Mages can also weave a single OGCD after a fast cast Fire or Ice spell
Do not use more OGCDs after an instant GCD unless there is a very good reason to do so.
Do not macro action sequences. It will result in a delay as macros cannot queue normally.
Please click & zoom in to make use of the Weaving chart Nethar worked on: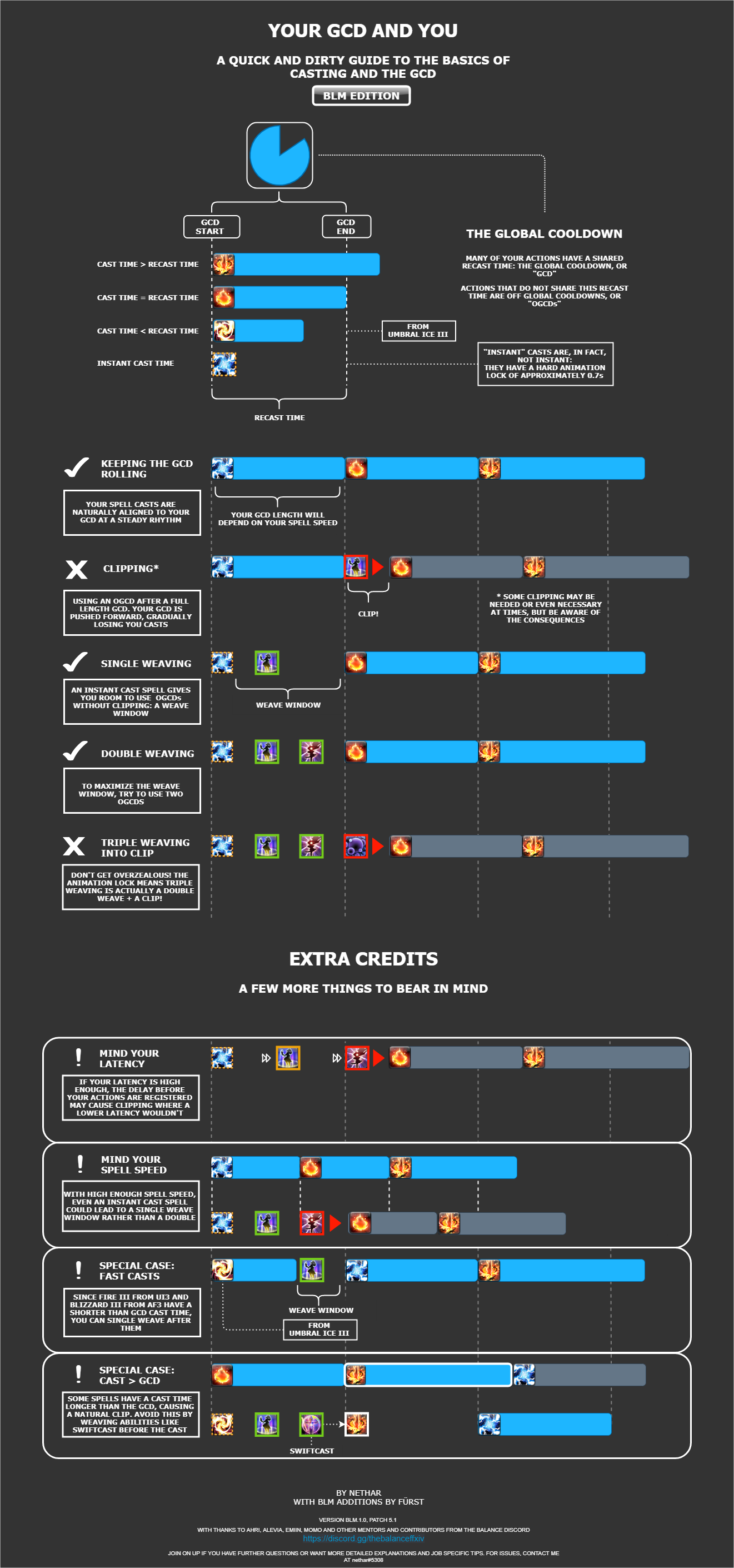 Clipping, High Ping & VPNs
Black Mage currently has one of the lowest number of required weaves in order to be efficient to keep the GCD rolling. As a result it is the least susceptible among the casters to the perils of higher latency, or "ping". This is due to the minimal number of OGCDs the job has to perform. However, certain windows can feel tighter to execute at higher ping potentially requiring higher Spell Speed to achieve similarly as lower ping players with less Spell Speed.
Having high ping means the server takes longer to get back to your client which means sometimes statuses applied to yourself can be delayed. This is important in the cases of

Triplecast and

Swiftcast making your next GCD instant where a delay can mean your next GCD is a hardcast instead.
For encounter mechanics high latency also manifests as having tighter margins of error for the snapshots of said mechanics between the game client & server which can result in thinking you were safely avoiding death but the server thinking your character was still in the mechanic.
There are other factors such as routing, packet loss, net traffic, node quality & jitter which affect & vary the impacts of latency with regarsd to clipping, as well as the game's instance server quality for a given encounter pull attempt.
High ping play can be frustrating. With that in mind, one suggestion players advise is the use of a "VPN", or tunneling service to help reduce the overall ping to the game servers & result in better routing for less packet loss.
Here is a list of several VPNs used by players:
Your mileage on using VPNs may vary, however, for higher ping players especially those playing on other regions it can make the difference between an incredibly frustrating play experience & one much more enjoyable. Most offer a free trial to experiment to see your results before having to commit.
Returning To The Game
Whether you have started Black Mage fresh in Shadowbringers or have come back to FFXIV from A Realm Reborn, Heavensward or even having taken a break mid Stormblood, Black Mage remains one of the few jobs mostly unchanged from its original release incarnation.
Over the years it has had a few additions building upon the original bread and butter of maximising your Astral Fire casts and recovering MP in Umbral Ice while adding further quality of life changes for the job to feel better in play.
Here is a list of current changes since Stormblood:
New Additions To Shadowbringers
Astral Fire and Umbral Ice's timers are now 15s
Aspect Mastery
Despair is a 3s cast Fire Magic GCD dealing 380 potency.
Despair grants Astral Fire III and consumes all MP like Flare.
Despair is not affected by Umbral Hearts.
Enhanced Enochian increases Enochian's magic damage bonus up to 15% from 10%.
Enhanced Sharpcast reduces Sharpcast's recast timer to 30s down from 45s.
Enhanced Polyglot allows for the generation of a second Polyglot stack.
Umbral Soul is a GCD to be used in downtime that grants 1 Umbral Ice and Umbral Heart.
Umbral Soul can only be executed while under both Enochian and Umbral Ice.
Xenoglossy is an instant cast single target GCD Polyglot spender dealing 750 Unaspected Magic potency.
Xenoglossy costs 1 Polyglot stack to use
Changes To Existing OGCDs
Triplecast now lists stacks for how many remaining spells can be made instant from the buff.
Apocatastasis has been removed from Cross Role Actions.
Manashift has been removed from Cross Role Actions.
Changes To Existing GCDs
Flare's fall off damage has changed from 15% less for the second, 30% less for the third, 45% less for the fourth, 60% less for the fifth and 70% less for all other remaining enemies to 40% less for all targets beyond the first.
Freeze is now a 2.5s cast GCD down from 3s.
Freeze now grants UI3 and an Umbral Heart.
Foul now has 25% damage fall off for all targets beyond the first target.
Leveling
Getting to the level cap can take a while especially if you are starting from scratch. However don't be disheartened! Enjoy the journey. It can be exciting learning a new job, however, take your time & pace yourself with learning how the job plays.
Do not worry about elements of the Black Mage rotation further down the line until you have the pieces of the puzzle readily available to interact with. It will make much better sense when all the tools are present.
Single Target
Before Lv. 40
Fire spam until low mp
Transpose to Umbral Ice
Thunder
Blizzard until max MP
Transpose to Astral Fire
Repeat from 1.
Lv. 40-59
Blizzard III
Thunder III
Optional Blizzard for MP tick, otherwise skip this step for 4.
Fire III
Fire spam until low MP
Repeat from 1.
Use

F3P and

T3P as you get them, but don't cancel casts to use procs
Lv. 60-71
Blizzard III
Blizzard IV
Thunder III
Fire III
Fire IV x 3
Fire
Fire IV x 3
Repeat from 1.

Foul whenever.
Lv. 72+
Blizzard III
Blizzard IV
Thunder III
Fire III
Fire IV x 3
Fire
Fire IV x 3
Despair
Repeat from 1.
Same as 60-71 with

Despair at the end after the last

Fire IV x 3.
Also the same as 80 just without

Xenoglossy.
See the next page for better details.
AoE (3+ Targets)
Lv. 18-34
Fire II spam until low mp
Transpose
Blizzard II until max mp
Transpose
Repeat from 1.
Keep up your

Thunder II DoT.
Lv. 35-49
Spam

Freeze.
Keep up your

Thunder II DoT.
Lv. 50-59
Freeze
Thunder II
Fire III
Fire II
Fire II
Flare
Transpose
Repeat from 1.
Lv. 60-67
Freeze
Thunder II
Fire III
Fire IV 2-3 times
Flare
Transpose
Repeat from 1.
Save 800 MP for

Flare.
Use 50-59 AOE Rotation at 5+ enemies
Lv. 68-71
Freeze
Thunder IV
Fire III
Flare
Flare
Transpose
Repeat from 1.
Lv. 72+
Freeze
Thunder IV
Fire III
Flare
Flare
Repeat from 1.
Same as 80. See the AOE section for a better explanation.
General Notes
For all AoE, use Thundercloud procs on

T2 /

T4 as you get them.

Swiftcast /

Triplecast your

Flares.

Manafont for an extra

Flare.

Foul after

Transpose or

Freeze.