Good AkhMorning and a Happy All Saint's Wake!
As we turn the corner from the end of Summer to the start of Autumn and people return to work or school, we hope that everyone out there is staying safe.
We have a pretty packed month ahead of us with much to cover, so let's dive on in, shall we?
What Happened For October 2020
Cancer Awareness News
What a tremendous run for our Cancer Awareness month fundraiser. So many communities pooled together for a great turn out and wide variety of events all for a good cause.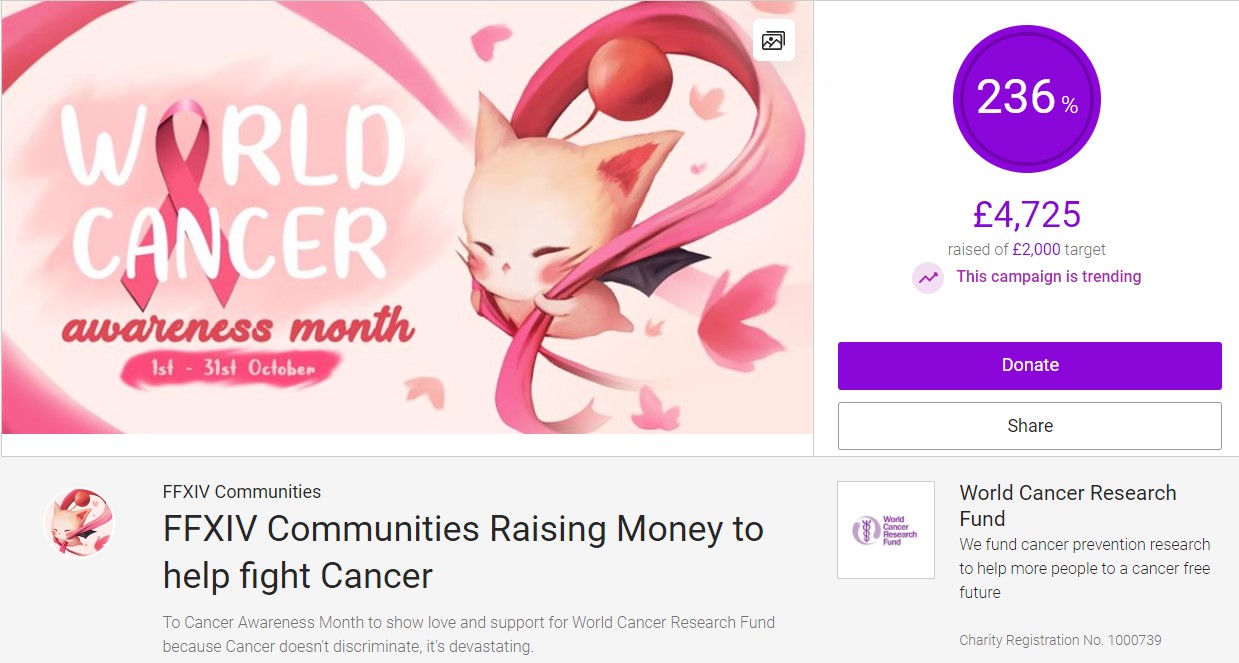 In total we managed to raise a phenomenal £4725 GBP / €5238 EUR / $6116 USD total with over 350 tickets being sold for our raffle!
This is the breakdown:
Prizes have been drawn and the winners will be contacted in short order to receive their winnings.
To everyone who donated and participated in all of our events - thank you. This will go towards making a big difference in the fight against cancer.
Content News
This month turned out to be quite busy with circumstances and changes both in and out of the game. Let's discuss what happened:
Patch 5.35: The Bozjan Southern Front
With Patch 5.35 came the release of The Bozjan Southern Front where in partnering with the Eurekan Explorers Discord we set up our pages to cover the various features in the new content.
These pages on release saw a tremendous amount of traffic and it was pleasing to see our works in progress circulated around. The inclusion of the interactive map courtesy of A Realm Remapped was met with a lot of praise and we were glad to have worked towards getting that functional and ready as soon as the servers came up.
Our page on the Duels remains quite popular as people seek out the challenge of earning the Sword of the South title.
Other elements are still being worked on and will be revised so that this section remains comprehensive in covering all matters Bozja, Resistance Weapon (relics) and Save The Queen.
General FFXIV Guides
We are proud to announce our working with Stal for bringing to AkhMorning her new player Comfy Guide For Sprouts.
Her guide has been received extremely well, with many of you thanking us for bringing her on board. Thank you Stal!
Job Guides
As per popular demand with tanks being the most requested jobs to add - Dark Knight (DRK) and Gunbreaker (GNB) are underway.
Our ideal timing is to have both jobs fleshed out by the end of the month or as soon as possible in time for Patch 5.4.
Raid Guides
I apologise for some sections taking a while to come out. Varis and E8S are in the process of being finalised and will hopefully be out during November.
We have released our section on Castrum Lacus Litore with Addramelech being covered. Brionac and Lyon + Dawon are being finished up.
We are more than ready to tackle Eden's Promise Savage when 5.4 comes along with things in place ready to go once the new raid tier is complete. Please look forward to it!
Community Spotlights
With the focus on the fundraiser and October being a generally busy month, we did not have a Community Spotlight for the month but we will return with at least two more for November!
If you have any requests on who you would like to see interviewed let us know via email at feedback@akhmorning.com.
Website Changes
Quite a few things are on our list for the development team.
Here's a summary of what's being covered for this month:
Content Management System Updates
Our CMS is live and working, with a few quirks that our team is aware of. To our contributors who have access - thank you for your patience with the setup process.
Guide Page Table Of Contents
This feature is now live, with the addition of the Sidebar ToC.
Please see an example of what's live on the website:

There are a few cosmetic changes that I have in mind for it, however, I hope this helps make page navigation within guides a more seamless experience!
Improvements To Video Embeds
We have expanded our video platform to also include Streamble clips and videos. You can see an example of these in Stal's Comfy Guide for Sprouts.
Related Posts Block
A feature several of you requested after bringing up that there was a lack of convenient way to navigate news posts that fall into specific categories of content, we now have our "You May Also Like" section at the bottom of news posts which will feature 4 different articles using shared tags.

Now all Community Spotlight posts will be tied together, as well our news updates and more!
Various Tweaks To Global Styling
Mostly cosmetic changes, some of these may be imperceptible. Little improvements here and there such as making all the "Read More" buttons for news tiles consistent in their placement, home page adjustments, or tweaking dimensions and attributes of various website elements. All in all a bit of house keeping to improve how the site looks.
Merchandise & Patreon Rewards
All of our earlier Patron items have been shipped and I hope they arrive safely and in good condition for you to enjoy!
If you would like to support AkhMorning know that we do have our Patreon. Currently we do have First Brood slots open, so be sure to get in on that while slots are available!
As always, know you can contact us through feedback@akhmorning.com or through the website-feedback channel on the AkhMorning Discord. Your insights and suggestions drive our changes.
Thanks for reading and enjoy Halloween!
~Nemekh