Happy Heavensturn to you all, we hope that the winter hasn't been too cold and that Santa Claws brought you what you wanted!
December had been an incredibly busy month with the release of the new raid tier and the World Race For Charity event that I took part in as an analyst for Frosty's Flooded World group. It was a blast and I hope you enjoyed tuning in to the coverage and learning the new fights for the first time!
January in my mind was always going to be an important month for setting the scene and getting the stage ready for future additions and functionality added to the site. We're well on schedule for important releases in February which makes for a very exciting next month.
Let's cover what was done in January and touch on future prospects for February and beyond.
What Happened For January 2021
Eden's Promise World Race For Charity
What a fun event to cover as we cheered on groups fighting for their clears at the cutting edge on stream. Congratulations to TPS for winning the race!
Steadily did the donations for Child's Play come in with Flooded World's donation incentives where on the second day it truly ramped up to a phenomenal $17,5000 (£12836.97) raised for the kids.
Child's Play were so stoked that they reached out to thank the team, and FFXIV's community for such an effort. Thank you everyone who took part and could give what they can to make the lives of children a little brighter.
What does this mean for the future? Who knows… there may or may not be plans in motion for an Ultimate World Race for Charity in 5.5!
I wonder what could be in store?
Content News
This month turned out to be quite busy with circumstances and changes both in and out of the game. Let's discuss what happened:
Famitsu Interviews Translated
From our traffic figures it seemed you all really liked our translations of the developer interviews with our simultaneous user count reaching record highs.
Wanting a complete set of interviews, we began to go back in the past to the original Eden's Gate interviews by Famitsu to do a thorough coverage of what the developers had stated, instead of the summaries that could be found in various posts online.
In January we had released:
Part 2 of "How Eden's Gate Was Made!" is in progress to be published in February.
We are very much looking forward to "How's Eden's Promise Was Made!" if Famitsu consider to finish the set. By our estimations, the range for which the interviews may be released falls between May-September 2021.
Due to COVID-19 and cases rising in Japan, it would not be a surprise if everything was delayed. We will keep an eye on it and push out faithful translations as soon as humanly possible.
Announcement Showcase Feb 5-6 2021
Happening at the dates for when FanFest would have occured in London, SE's XIV Team are doing an announcement showcase to unveil future developments and events.
We will be making a record of everything and will make a post here.
Job Guides
Work on the DRK and GNB sections are well underway, with upcoming Healer and Ranged resources in the pipeline. More on those will be announced closer to time.
Numerous videos have been recorded anew or for the first time for the website and AkhMorning's YouTube channel. With an extremely talented video editor on hand, this presents an exciting opportunity to up the ante when it comes to video resources. The aforementioned job additions will feature these video updates.
Encounter Advice Guides
With the new raid tier we have worked on some encounter advice guides for you.
Check them out here:
RDM
SMN
Raid Guides
Alas, initial plans for our own raid guides for Eden's Promise fell through, however, we still have our own ideas that we'd like to execute, with the majority of efforts being closest to completion for E11S. Better late than never, and we hope you like what we come up with.
Allagan Studies: Limit Break Overview
With 5.4 came a lot of progress for Allagan Studies to research Limit Break. Fürst has done a solid in compiling our research into a google doc.
We have a Limit Break section to Allagan Studies being worked on to feature the contents of this document, and contents from the document worked on in Stormblood, with several new Shadowbringers additions. The history of LB and the issues it has had is a fascinating one.
Community Spotlights
Community Spotlights are in the works, with another in progress featuring a musical, geeky canine.
We hope you enjoy them when they go live.
Website Changes
As always there is an extensive list of items in the pipeline for the development team, with good progress being made on all fronts. The number of code commits from the dev team and I skyrocketed this month with so much more to still do.
Here's what was covered.
Allagan Studies Updates
November and December saw the bulk of the functionality updates to the Allagan Studies stat tables with the truncated tier table views, however, there was one set of functionality that was still in progress and was completed in early January.
Our Critical Hit and Direct Hit tables now feature buff icon toggles that adjust the rate functions and expected damage calculations accordingly when turned on/off.
Please see some example images of them in action: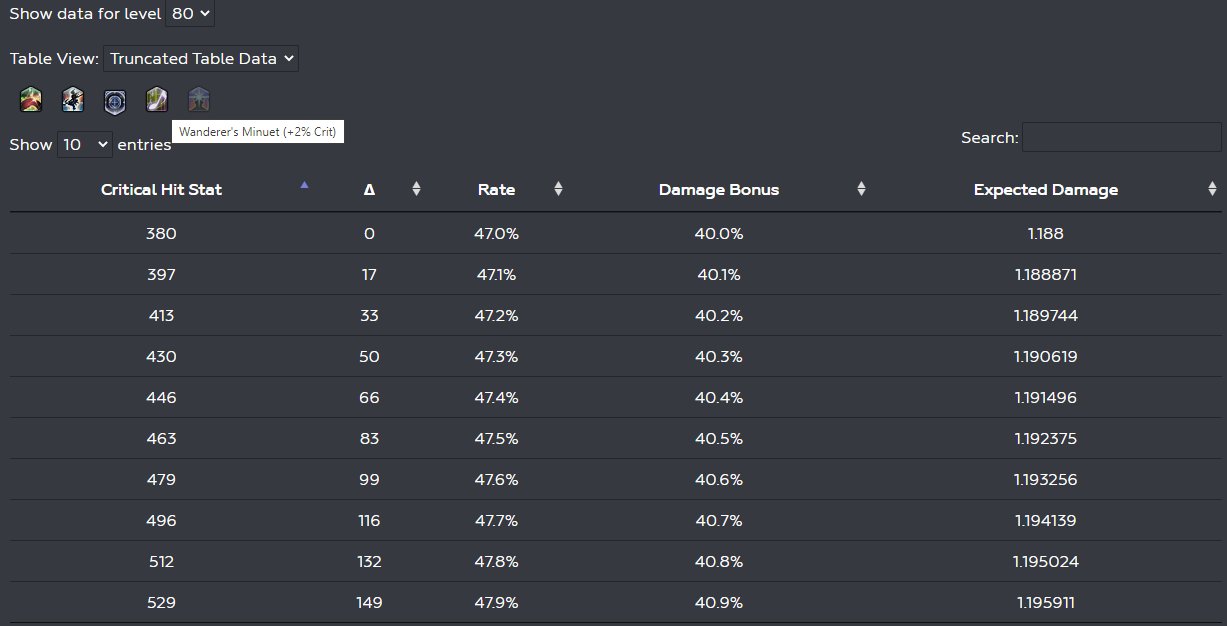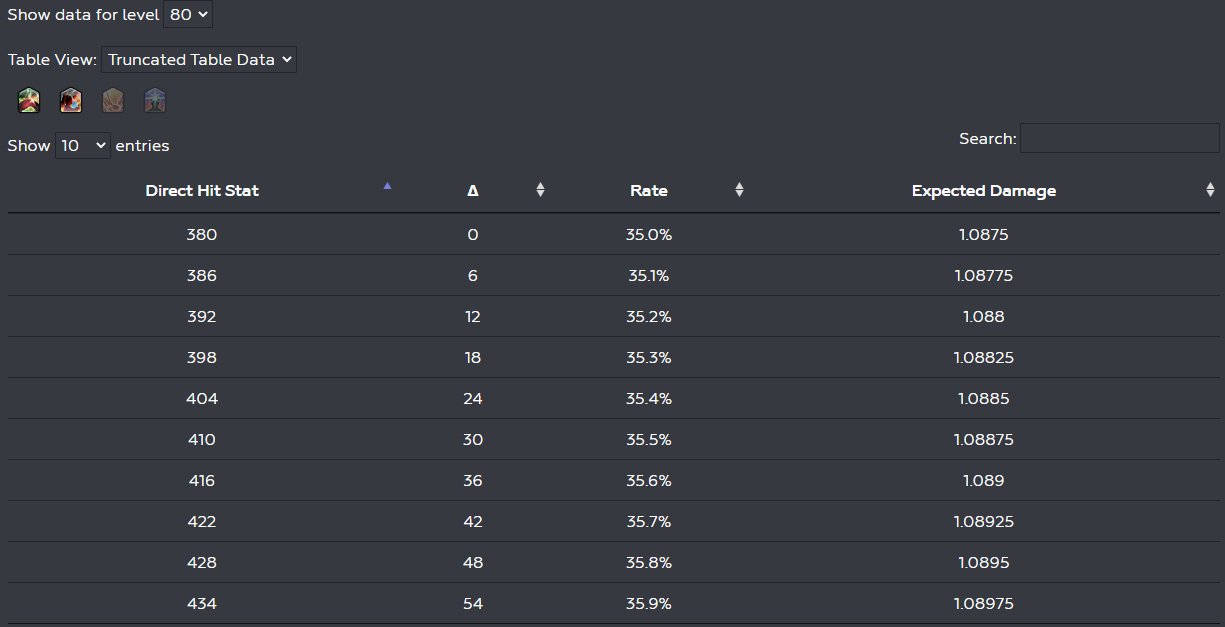 There have been some requests to extend this functionality to include Haste buffs/passives for the Speed table. While it is trickier, this will be something implemented at a later date.
As a further revision of usability, Allagan Studies in the top-most mega navigation menu now features a drop down with convenient access to specific pages users would be interested in.

Future Minimal Disruption Advertisements
We had touched in November about the plans for minimal disruption advertisements for maintaining and growing the website.
After having played around with some of the ad implementations, I was not happy as to how they would have disrupted the user experience, so I had set this item aside for later.
Since then, changes have been made in terms of ad networks and the kind of ads that would be served in the site in future. There was also the matter of an option for ad-free view for users that are supporting AkhMorning through other means.
We are working on a solution with Discord OAuth so that Patrons starting all the way from the $1 tier will have an ad-free experience. While most of the functionality is in place, this is still an item in progress. The OAuth functionality will also be used in the future for other additions to the site.
Ads will not go live prior to the completion of this item.
It is in our hope that as we experiment and try things out we can achieve a happy medium while in turn growing and improving the website further and giving back to the community and contributors. We will likely make some mistakes along the way, however as always, our ears are open to hear you.
Open Graph Tweaks
A simple change to the meta tags for pages now provides more appropriately sized images when our page links are posted on both Twitter and Discord. Now there will be tiny image rectangles no longer.
Party Finder Macros Part 1
One of the additions I have always wanted to have in mind was a selection of PF macros available to players of various regions. We will be sharing macros in collaboration with several groups across the regions making sure the ones listed are the ones presently being used.
A block for this has been created with glyph fidelity to the symbols you see in game in FFXIV - I never liked seeing macros with squares galore and not with these blocks none of us will have to. It comes with a convenient copy button that loads the selected macro into your clipboard ready to paste in another document, or in game to save to your own macro list.
You can find an example of our PF Macro blocks live on our E5S raid guide.
More to come in the near future while we iron out some kinks and improve its formatting.
Raid Statistics Site
As the 3rd website to be integrated into AkhMorning from its humbler state as rankings.akhmorning.com, much work has been done on the implementation side thanks to a new addition to the team assisting with data visualisation. While I cannot show previews just yet, the Raid Stats page will be using PowerBI to present our data from now on.
We have automated the processes to obtain and parse the data whereby AkhMorning's server will query and update data every morning at 00:00 GMT.
Due to the sheet scope of data from the Rankings table alone, this process originally took 20-30 hours but with optimisations and supporting Kihra to obtain a rate limit increase, has since been reduced down to 8-9 hours. With a cron job running daily, instead of updates happening sporadically when I had spare time in a week to ensure everything was updated, we will have the most current data as of the past 24 hours.
While it was my hope to migrate data over to a database, for the time being this is not only overkill, but a much more costly option per month than the current solution implemented. Perhaps in the future with ad revenue we can revisit this aspect.
In the future, we will also be scraping Lodestone for data to be able to cross reference FFLogs data with the style of data Lucky Bancho is known for presenting.
This is a personal project of mine that I'm really looking forward to how it will be once rereleased. Statistics are my jam and I really want to share the interesting facts the data shows in a more presentable manner that won't be as eye-glazing as some of the older charts.
Please look forward to it.
Styling And Bug Fixes
A few minor tweaks here and there such as:
datatables search bar text being black on a dark bg. This has been fixed to be light.
datatables drop down menus having a white font on a white bg. This has been fixed to be dark.
corrupted webp images being fixed to render correctly.
a fix to a styling bug on the home page separating blocks and creating a visible seam. This has been fixed and is now seamless.
Twitch Stream Integration
Released in time for Patch 5.4 and the World Race, our Streamers page is live. It saw a fair amount of traffic during the event as people clicked on various streamers to see their progress live.
Do let us know if you have any suggestions and feedback that could improve the page further.
WCAG Review
Accessibility is as ever important to AkhMorning and we are always looking to iterate and provide the best we can.
A review has been complete in the end of January with early February being scheduled for tweaks and improvements.
XIV Data For Future Applications, Additions And Localisation
We now have a very scalable and robust system in place on our server to serve and provide XIV related data and assets for future additions, applications and localisations for everything AkhMorning.
While the work on this has largely been invisible to the general user, the impacts of this will be seen soon enough in particular with one of our upcoming projects for 5.5's Ultimate Race.
Merchandise & Patreon Rewards: Courier Delays Due To Lockdown
AkhMorning ships with UPS and after our initial batch of deliveries there was a problem from December that needed to be resolved before we could push out the next batch. In tandem with lockdown, this resulted in an unacceptable delay for sending goods over and for that I apologise greatly.
Now that the UPS matter has been resolved it is anticipated that we will have the courier pick up our packages in the first week of February.
To our Patrons in Japan, we hope that restrictions will be lifted in due course in order to send your goods to you as soon as possile. ごめいわくをかけて、すみませんでした。
As always, know you can contact us through feedback@akhmorning.com or through the website-feedback channel on the AkhMorning Discord. Your insights and suggestions drive our changes.
Thanks for reading!
~Nemekh